Hand-crafted Carriage House Doors Built with Low-Maintenance Materials
The Cape May Custom models offer the finest traditional carriage door styles in our most customizable maintenance free construction. Cape May models are made using only PVC (with polystyrene insulation); so there is no wood to rot or steel to rust. Its unique construction combines the advantages of weatherproof, bright white PVC with traditional carpentry. Cape May series doors are built on a 1" PVC frame with advanced polystyrene insulation. Frames are backed with ¼" thick smooth white PVC sheet. The framing is overlayed with 1/4" thick flat or v-grooved PVC panel, overlayed with ½" thick stile and rail overlays. Raised panel designs are also available. Cape May models are 2-1/4" thick, insulated to R-8 using polystyrene, and are available up to 10' wide.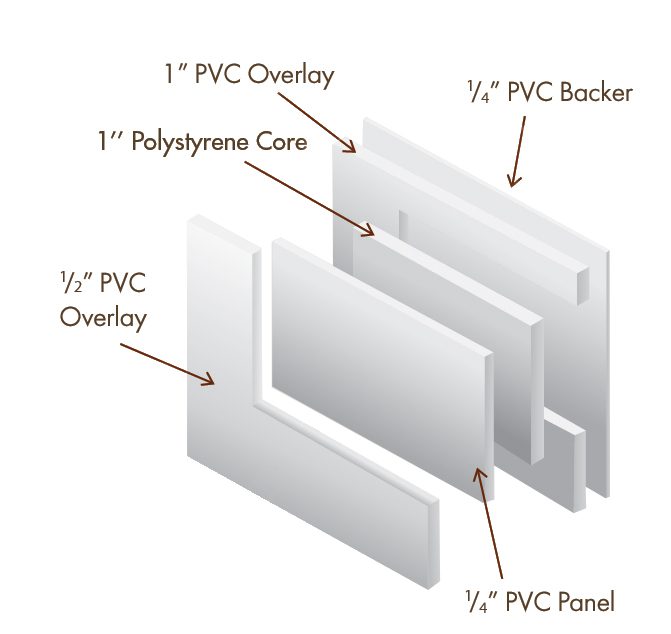 2-1/4" Door Thickness
All PVC framing with R8 Polystyrene insulation
¼" Flat or V-Grooved Versatex PVC Panel
½" Flat Versatex PVC Stile and Rail Overlays
Custom sizes available; Widths up to 10'
Warranty: 3 years
Factory Paint available
Color limitations apply when field or factory painting PVC
Many more designs are available to provide you a complete custom door, unique to every project.
Traditional Stile and Rail Models